SINCE 1950 ROYAL HAS STUDIED, DESIGNED AND PRODUCED MILKING PLANTS FOR BOVINES, OVINES AND GOATS.
ROYAL does not want to be just a supplier, but a partner with whom to collaborate in order to grow, a partner that, thanks to the great experience of his technicians, is able to design and carry out solutions "made to measure" for your milking requirements.
Directly experience, capable of analisis and sinthesis, creativeness in design or rather the elements that have led to the creation of this exlcusive milking system called "INDIPENDENT DOUBLE VACUUM" (PAT.N.751928)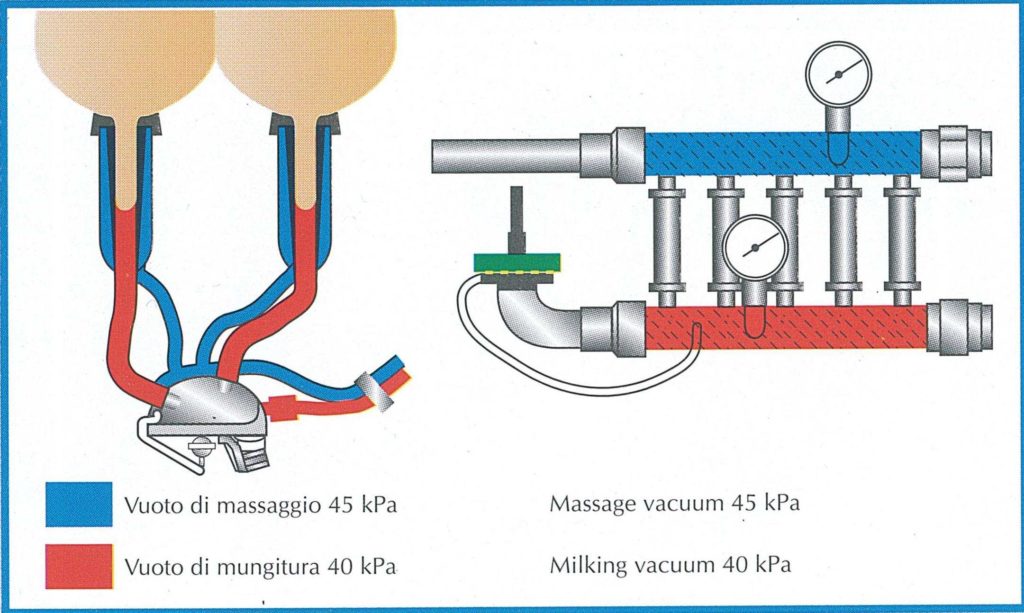 that facilitates the flow of the milk without irritating the teat and eliminates the problems of mastitis that may arise with mechanical milking.
At present our range of plants includes, for the bovine section: mobile milking trolleys, pipeline milking with bucket units, pipeline milking direct to line, herring-bone or tandem milking parlours; for the ovine-goat section: mobile milking trolley, pipeline milking with bucket units, transferable plants on rails, rack plants in the low line modal and mid-central line modal self-catching, carousel plants and mobile units on chart, all with innovating solutions.
All the productions stage are carried out in the ROYAL factories or controlled directly by our technicians. Nothing is undervalued or left to chance, every detail is produced with respect to the prescribing rules in force, every piece is assembled and tested scrupulously.A plant that leaves ROYAL"S workshops has already overcome the hardest test: OURS !
To facilitate its own clients as much as possible, ROYAL has passed the formula A.T.R. , Immediate Assistance that assures manteinance interventions in short time. The A.T.R. service is made possible first of all by the really low number of incoveniences that may arise in our plants; secondly by the skill of the technicians placed over the national territory for this job and finally by the availability in our warehouse, in our centres of assistance, of those elements that, for wear or mistake in usage, are subjet to inconveniences
DO NOT HESITATE TO CALL US UP WE ARE AT YOUR COMPLETE DISPOSITION FOR ANY FURTHER INFORMATION OR CLARIFICATION YOU MAY NEED.